THE POSSİBLE EFFECTS ON THE WORLD TRADE OF NEOMERCANTYLIST TENDENCIES THE USA AT THE 21st CENTURY

Abstract views: 56 /

PDF downloads: 17
Keywords:
Mercantilism, Neomercantilism, GATT, WTO, US Protectionism
Abstract
The freedom of world trade is of great importance for the economies of the country. The increase in protectionism in the past century has shown that global trade barriers will have a serious impact on economies. With international joint solution efforts against protectionism; GATT (1947) has been organized, then converted into WTO (1995) and has been present in the international trade focus. These organizations, which are oriented towards international trade, continue to be important today and continue their existence. However, in the first quarter of the 21st century, the increase in protectionism in international trade activities, especially the USA and some developed countries, despite their membership in this organization, made the issues of "trade wars and protectionism" frequently discussed in the economy literature. In this study, the possible effects of trade obstacles against other countries in the world trade are investigated with various protectionism practices carried out by the USA in violation of the basic principles of WTO, which it is a member of in the world free trade system. In this context, first of all, the history of US protectionism in the historical development of protectionism and the "World Trade Regulatory Institutions" which were born in the 20th century with the search for solutions to the increasing protectionism in the world; The USA, which is one of the few countries with the biggest share in the world total trade relations, will focus on the new protectionist-neomercantilist policies implemented by the 21st century, after the countries and sectors where these policies are concentrated; The reaction and possible effects of the world against the rise of US protectionism are revealed through concrete data such as world trade data and foreign trade shares within the country's GDPs.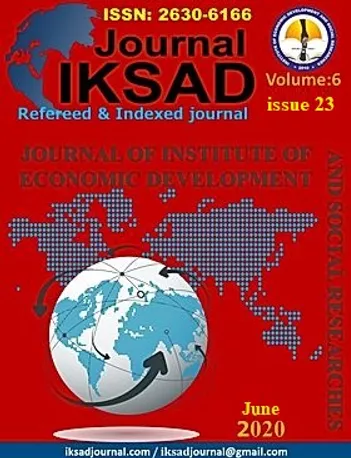 Downloads
How to Cite
GÜVEN, C., & BULUŞ, A. (2020). THE POSSİBLE EFFECTS ON THE WORLD TRADE OF NEOMERCANTYLIST TENDENCIES THE USA AT THE 21st CENTURY . IKSAD JOURNAL, 6(23), 237–260. https://doi.org/10.31623/iksad062304
License
This work is licensed under a Creative Commons Attribution-NonCommercial 4.0 International License.