STALKING, CYBERSTALKING AGAINST WOMEN AND CHIDREN AND LIABILITY IN THE LIGHT OF PRIVATE LAW REGULATIONS

Abstract views: 77 /

PDF downloads: 48
Keywords:
Stalking, cyberstalking, domestic violence, women's protection, children's protection
Abstract
Despite the national and international regulations, domestic violence and violence against women and children has been increasing in Turkey. The purpose of the Law No. 6284 on the Protection of the Family and the Prevention of Violence Against Women; to protect women, children, family members and victims of unilateral persistent stalking, who have been subjected to violence or are at risk of violence by taking protective and preventive measures. For this purpose, one of the types of violence regulated in Law No. 6284 is stalking. Today, cyberstalking actions, which are a form of persistent stalking violence, have spread rapidly as well as many benefits obtained especially with the development of technology, the spread of the internet and the development of social media. With the advancement of technology every day, a new one is added to the actions that constitute cyberstalking. Therefore, it is not possible for the legal system to count the actions that constitute persistent stalking and cyberstalking one by one. The legal system should adopt a general approach to what actions are stalking, thanks to compatible national and international regulations. The legal regulations accepted at this point are the Law No. 6284 and the Istanbul Convention. The victim of stalking is defined in the Official Gazette dated 18.01.2013 and numbered 28532 Implementing Regulation on Law No. 6284. A similar definition in this regard is included under the heading "Stalking" in Article 34 of the Council of Europe Convention on Preventing and Combating Violence against Women and Domestic Violence (Istanbul Convention). Accordingly, stalking is the act of pursuit and harassment that is deliberately repeated for a certain period directed against a person and frightens the person to feel safe. In order for this situation to be seen as a type of violence, it is enough to cause fear and anxiety on the person. Stalking can be done inside or outside the family. By means of this study, the concepts of persistent stalking and cyberstalking will be defined and an opinion regarding the general approach about the actions which are violent will be tried to be revealed. In this framework, after an assessment of who the victim and the perpetrators may be, the measures that can be taken in Turkish private law against these actions will be explained. As a result, our opinion on what can be done in order not to be victims of such actions will be revealed.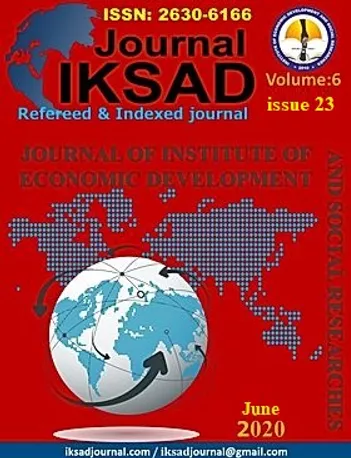 Downloads
How to Cite
ZORLUOĞLU YILMAZ, A. (2020). STALKING, CYBERSTALKING AGAINST WOMEN AND CHIDREN AND LIABILITY IN THE LIGHT OF PRIVATE LAW REGULATIONS. IKSAD JOURNAL, 6(23), 215–236. https://doi.org/10.31623/iksad062303
License
This work is licensed under a Creative Commons Attribution-NonCommercial 4.0 International License.