THE EFFECT OF CORONAVIRUS (COVID19) PANDEMIC ON INDIVIDUALS' VACATION PLANS

Abstract views: 35 /

PDF downloads: 50
Keywords:
Coronavirus, COVID-19, Vacation, Tourism
Abstract
Aralık 2019 yılında Çin'in Hubey eyaletinin Wuhan kentinde ortaya çıkan Koronavirüs (COVID-19) kısa zamanda tüm dünyaya yayılmış, milyonlarca kişinin bu hastalığa yakalanmasına ve binlerce kişinin ise bu hastalık sebebiyle ölümüne yol açmıştır. COVID‐19 salgınının yayılmasının önlenmesi için sosyal mesafe kuralı, izolasyon, seyahat kısıtlamaları ve sokağa çıkma yasağı gibi tedbirlerin alınması ekonomi, çevre ve insan faaliyetleri üzerinde önemli değişikliklere neden olmuştur. Birçok sektörü olumsuz yönde etkileyen bu salgın hastalık turizmi de durma noktasına getirmiştir. Bu çalışmada COVID-19 pandemisinin bireylerin tatil planları üzerindeki etkisi araştırılmıştır. Araştırma amaçları doğrultusunda oluşturulan anket formu Google Formlar aracılığıyla düzenlenerek bağlantı adresi üzerinden sosyal medya ve e-posta üzerinden katılımcılara ulaştırılmıştır. Uygulama sonucunda veri sağlamaya elverişli 512 adet anket formu elde edilmiştir. Elde edilen analiz sonuçlarına göre tedbir faktörü en etkili ifadeyken erteleme faktörü en zayıf ifade olarak tespit edilmiştir. Diğer yandan katılımcıların COVID-19 pandemisinin bireylerin tatil planları üzerindeki etkisi demografik özelliklere göre de farklılıklar göstermiştir.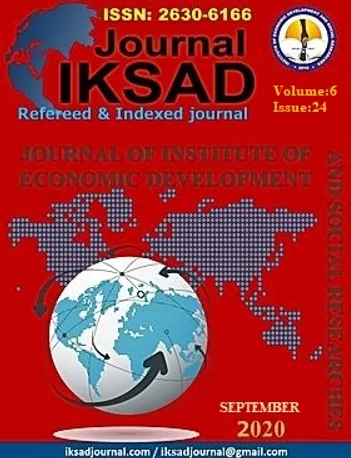 Downloads
How to Cite
ÖZKAN, N., & ULEMA, Şevki. (2020). THE EFFECT OF CORONAVIRUS (COVID19) PANDEMIC ON INDIVIDUALS' VACATION PLANS. IKSAD JOURNAL, 6(24), 732–749. https://doi.org/10.31623/iksad062507
License
This work is licensed under a Creative Commons Attribution-NonCommercial 4.0 International License.