DECISION MAKING PROCESS IN THE CONTEX OF NEUROECONOMICS

Abstract views: 33 /

PDF downloads: 20
Keywords:
Neuroeconomics, Behavioral Economics, Decision-Making
Abstract
The human brain is one of the most complex structures known today. It is also possible to see the current structure in the human brain in the social structure. By analyzing the current structure of the brain, transferring brain information to the social environment with the current technologies of neuroscience has brought a new perspective to behavioral economics. The name of this concept is neuroeconomics. The concept of neuroeconomics has become a new light to the science of economics, intertwined with many disciplines, and has provided a different perspective in testing theoretical foundations. Neuroeconomics enables evaluation on an individual basis to understand the underlying causes of community behavior. With the collaboration of economics and neuroscience, it has recently entered the literature as a new development network and has become an important area. Neuroeconomics is defined as a discipline that examines the role of the brain and nerve cells in decision-making in evaluating individuals' decision and preference processes as well as gain and risk management through neuroscience techniques by determining the basic structure of nerves. The aim of the study is to examine how economic decisions work, to explain the effect of the selection mechanism and the risks and uncertainties in the decisions taken in this process and to contribute to the literature on the commune. It provides an insight into the branch of neuroeconomics by clarifying the decision making process with its own test techniques in neuroscience. Secondary sources were used as material in the study. In the study supported by the literature, the discipline of neuroeconomics is a widely defined description. It is expected that it will contribute to the science of economics in the analysis of the underlying causes of individuals 'behaviors, by neuroscience research techniques, by predicting individuals' decisions more accurately and by offering more consistent policy recommendations for the future.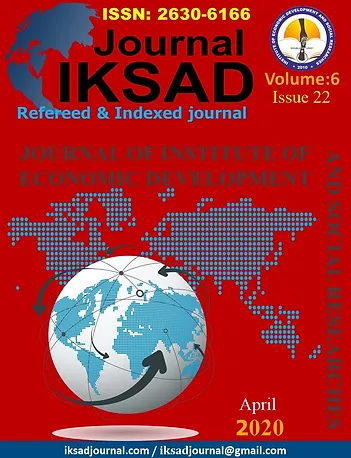 Downloads
How to Cite
YAYAR, R., & TEKGÜN, B. (2022). DECISION MAKING PROCESS IN THE CONTEX OF NEUROECONOMICS. IKSAD JOURNAL, 6(22), 160–169. Retrieved from https://iksadjournal.com/index.php/iksad/article/view/147
License
This work is licensed under a Creative Commons Attribution-NonCommercial 4.0 International License.